MEPCO helpline is another way Multan Electric Power Company provides customer care to its consumers. The best part of being customer of such a company that puts so much effort in taking care of you is that you get amazing customer support.
Over the years MEPCO has done a lot to improve the customer service and satisfaction and for that reason, it has put keen effort in observing what sort of problems the clients faced over the years. Hence, it has different contact numbers as helplines where you can contact MEPCO for different queries. You can also use these helplines as complaint cells and you can also check your application status.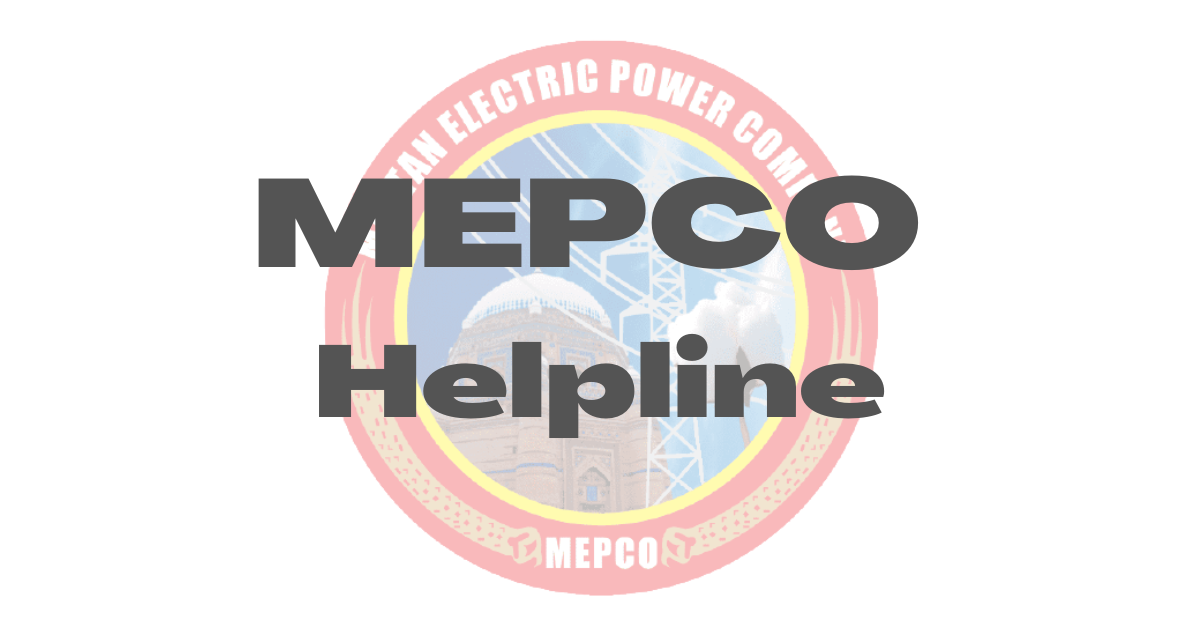 Where can I complaint for load shedding?
MEPCO has also provided certain contact numbers where you can complaint for un-scheduled load shedding. We have all been through that. We have seen those bad days where the situation of load shedding was just worse in the entire country. The MEPCO didn't have the necessary infrastructure that allowed us customers to ask queries about load shedding or when the electricity would be back. But things became better as the infrastructure was built.
MEPCO has now provided numbers and toll free helpline where you can contact the company to ask for these issues. And hopefully, you query would be answered.
Now you Can Check MEPCO Bills Online
You can also contact these numbers for queries like your application status as well. Keep that in mind that these contact numbers that I am about to share are of Multan head office of MEPCO. For numbers and helplines that are specific for your region, I will provide that later in this blog.
0800-63726
061-9210334
061-9210389
061-6784815
MEPCO customer service centers
As I have told you before in this blog, to contact the customer service centers specific to your region, you would have to contact on different numbers. They will be able to answer your query much better than the head office ones. It is logical too. How can you expect the head office to answer a query specifically related to your region so quickly? They do not have the necessary data or may not be aware of the ground realities of the problems like people from your area. So contact your relevant helplines.
Following are the helplines for different regions
| | |
| --- | --- |
| Region/circle | Helpline |
| Multan | 061-9220198 |
| Muzaffargarh | 066-9200065 |
| D.G. Khan | 064-9239229 |
| Bahawalpur | 062-9250102 |
| Rahim Yar Khan | 068-9230160 |
| Vehari | 067-3360282 |
| Sahiwal | 067-3360282 |
| Bahawalnagar | 063-9239031 |
MEPCO helpline for theft reporting
Electricity theft is a big crime in Pakistan considering the fact that we as a nation had to suffer a long time due to lack of electricity. As a citizen, it is your moral responsibility to report electricity theft. To report theft, MEPCO has a separate helpline where you can call and report them about the incident. By doing this, you are not only fulfilling your responsibility as a moral citizen but also you are helping to make Pakistan a better place to live for law abiding citizens. You can call on 0800-63726 to report theft of electricity where you see it. If you want to know how you can do this, we can also guide you about it. If you know it already, then skip this section of the blog. If you don't, then keep reading please!
Call the toll free number
Press 1
Listen to the instructions carefully
Record your message regarding the theft. You have to give maximum details about the incident and you also should give precise location of where the theft is happening.
Disconnect the call once you are sure you gave exact details of where and how the theft is occurring.
MEPCO makes sure to distribute the electricity all over the designated region equally. And, to make sure that happens, it takes queries like these very seriously and you will see a very quick action from MEPCO's side. Electricity theft not only puts pressure on the country financially but also it affects how electric power is distributed to you. So, it is better to always report these incidences.