This article is a comprehensive guide about MEPCO bill payments. So you if you want to know all about how to pay your MEPCO bills, you have to give this a read. There are different ways to pay your MEPCO bill. You can either pay it the old fashioned way, like, you can pay it in the bank. Or you can also pay Mepco online Bill. To be honest, paying the bill online is much better and saves you from this hassle. Paying the bill on time is such an important thing. Not only this is your responsibility as a citizen of Pakistan, but also it is your moral obligation to pay for the facilities that you use.
You must always pay the bill on time to avoid paying the extra amount if you are paying the bill after the due date. The taxes that we pay help MEPCO to streamline the distribution of electricity and make the facilities better for us. So it is a win-win situation for everyone.
Anyways, you can easily pay your bill through these methods and we will be talking about these methods in the article below. So without further ado, let's begin.
How to pay MEPCO Bill Online?
Paying the MEPCO bill isn't rocket science. If you do it once, you will know that it's nothing more but a hassle that you have to do once a month. If you are a newbie, don't worry, this blog shall help you as a guidebook.
First of all, there are different methods that you can use to pay your MEPCO bill. You can either pay it the conventional way or you can pay the bill online. Nowadays, people use the conventional way more than the online method. This is because the online method still hasn't gotten acceptance by the general public. Why is this case? Why shall discuss this further in the blog?
But for now, let's discuss how many options you have when you are going to pay your MEPCO bill. We will only be discussing the mainstream methods.
Following are the available methods:
Payment via bank
Online bill payment
Online Payment Methods
Easypaisa
Jazz cash
HBL mobile
Daraz wallet
How to pay MEPCO bill via bank?
Paying this way is pretty easy. You just have to show up at the bank with your MEPCO bill and the amount of money that you have to pay. If you do not have a MEPCO bill, then you can read this blog to know more about how to get an online MEPCO duplicate bill. After that, if there isn't a big line waiting for you, then you are lucky.
You just have to go to the counter, give them your MEPCO bill. They will ask you for the money. you can give them. Then the banker will follow a procedure in his system and transfer the money in your name into the MEPCO's bank account. This way, your MEPCO bill will be paid in the bank. This was the conventional method that a lot of people use.
Now because a lot of people use this method, you will see that near the end of the due date, the line before the payment counter gets bigger and bigger. It gets annoying. So you will have to wait. To avoid this, you can try to go to different banks that are accepting the payments. Or you can just simply pay the bill as soon as you receive it.
Check MEPCO BILL Without Reference Number
Online MEPCO bill payment
You can also pay the bill online. This is a relatively new method and is introduced with the prevalence of the internet. Not only it is better for the company to operate this way, it is also beneficial for you. It saves your time and money. Not only did you just eliminate that hassle of waiting in lines to pay the bill, but also you saved the fuel cost of going to the bank. This is eco-friendly too! This is why all of the companies are now moving towards online payment methods. And you can pay multiple bills online as well. Not only you can pay your MEPCO bill, but also you can pay your SUI gas bill too.
As of right now, the companies do not have their own payment gateways. Rather, they have made contracts with banks and other fintech companies that enable them to receive online payments in their bank accounts. So basically this is online banking.
Let's get down to how you can pay the bills online and the different methods you can use to do so.
MEPCO Bill Online Payment Methods
As of right now, MEPCO doesn't have a payment gateway of its own to receive online payments. It has to rely on banks and other fintech companies to get their payments online. You can also use these methods to pay your online bill
Each month, you get a message that contains information about your bill. The contents of this message contain your name, may contain your CNIC or reference number. It also contains the due date to pay your MEPCO bill and also the amount that you have to pay. When you get this message, you can just use any of the following methods to pay your bill online.
Easypaisa
This is one of the oldest methods to pay your bill online. It was a project started by UBL. When it was started, it was nothing like it has evolved to be today. At the start, there were different top-up shops in which you could pay the bill. The agent there would then pay the bill online. But now the company has eliminated this middle man or shifted the load towards you by introducing their app. Not only you can do your online payments, but also you can pay your utility bills.
Following is the method of how you can pay your MEPCO bill online via Easypaisa
You must have a certain amount in your Easypaisa account, so either bank transfer and recharge it from a top-up shop.
Open the app
Click on the bill icon
Choose MEPCO as your provider
Enter the reference number
Click on pay button
Jazz cash
Jazz cash was the next fin-tech company to enter the field. It also made online payments easier in Pakistan. Jazz cash operates through an app and runs operations similar to Easypaisa. You should have your jazz cash account recharged before you are going to make a transaction. If you have the money already, then you should just follow this simple method to pay your electricity bill online.
Login to your account
Click on bill payment
Select MEPCO as a provider
Enter your credentials
Click on the pay button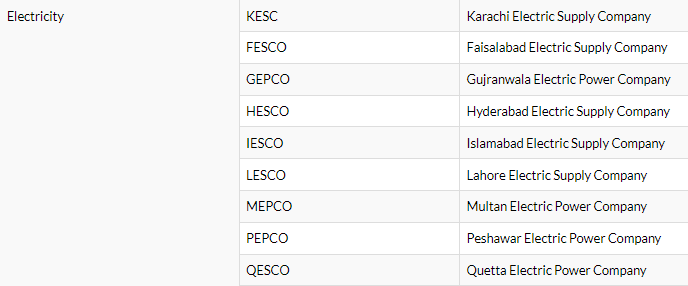 HBL Mobile
HBL mobile is a venture of HBL, as the name suggests. It also operates through an app. This is especially helpful If you have an account in HBL. You can simply use their app to pay your online bill. no need to transfer money in some other account to pay this bill. Eliminate the middle man and make your life easier.
Login to your account
Click on utility bill payments
Select MEPCO
Enter your reference number and other credentials that the app is asking you
Enter the pay button
The bill is paid online
Daraz wallet
This is one of the newest methods and is a venture of Daraz. Daraz is an online marketplace that operates in Pakistan and other south Asian countries. It is helpful if you do online shopping regularly on Daraz. You can also get 10% discount on your first online bill payment. This is such a wonderful opportunity to save some money. The process is similar to the other apps so we are not going to waste time on that.
Features and Drawbacks of Online Payment Methods
Like any other thing is this world, online payment methods have also their advantages and disadvantages. If you are getting something, you are also losing something. This is just a general rule of this world. In this section of the guide, we will briefly discuss the merits and demerits of online bill payments. Hope you will enjoy this. You can also engage with us in the comments section and give us your input on this discussion.
Advantages
Disadvantages

Saves time
Saves fuel
Online payments are quick
You can pay the bill anytime you want

You can have problems with server response time
Comparison between online and conventional payment methods
We provided you with two methods, conventional and online methods to pay your bill. Right now you should be capable enough to make an educated decision on which payment method you want to use. But for your facility, we have also made this comparison between payment with conventional method and online payment. You can also use this table to make a quick decision on how to pay the bill.
Payment via bank
Online payment

Takes your time
You have to wait in lines
You can a receipt for the bill
Problems with slow servers are rare
As of right now, the most used method
People find it more credible

More accessible than the conventional method
Saves your time and fuel costs
Quicker than paying via bank
Eliminates the possibility of error from the banker's side
You can pay multiple bills at a time
Conclusion
In this article, we discussed that how you can pay the bill. We discussed different methods. You can either pay the bill online or you can also pay the bill via the bank, which is one of the most used methods. But in my opinion, it will be replaced by online payment methods if the system is made more streamlined.
But still, in the end, I will urge you to be always responsible for the payment of bills. As a law abiding citizens, it is our moral obligation to pay the bills on time. This will always help us all to live with better facilities and we citizens run these systems with our tax money.
Frequently Asked Questions
Can I pay the MEPCO bill online?
Yes, you can pay the bill online. All you have to do is use a payment gateway that allows you to pay your utility bill online.
Can I pay the bill through Jazz cash and Easypaisa?
Yes, both of these fintech companies can be used to pay the bill online. Their user interface is pretty easy to understand and you will find it pretty simple.
Do I have to pay extra taxes when I pay the bill online?
It depends on the company that you are using to pay the bill online. Some options that we have discussed in this blog do not cut any extra taxes. While some do. You can review the MEPCO rates to check it out.
What if the due date to pay the bill has passed?
If the due date has passed, you can still pay the bill. But you will have to pay the fine as you couldn't pay the bill within the due date.
Why should I pay the bill online?
We tried to write this guide as much comprehensively as we could. So you should be able to make an educated guess by now. But, if you ask us, we would recommend you to use the conventional way IF you are not tech savvy. If you are good with using technology, then save your time and pay the bill online. ONLINE PAYMENTS ARE THE FUTURE.
How to avoid waiting in lines to pay MEPCO bills?
You can avoid waiting in lines by paying the bill as early as you can. This way, there will be no line in the bank. Or you can try and visit different branches of the bank to see which bank has lesser customers in it. But the BEST WAY to save yourself from this hassle is to pay the bill online.
Can I get the physical receipt of the online bill payment?
As of right now, you cannot. All you can do is take a screenshot of the confirmation notification when you have paid the bill.