Today, we present you with a guide that will help you to apply for a new connection. If you are shifting a house and that house has no electricity connection, this guide will help you apply for a new MEPCO connection. You can either apply online or you can also visit your nearest MEPCO office.
It is a simple process and if your documentation is complete, it is fairly easy for you to get a new connection for your household. This is a comprehensive guide that we made with a lot of hard work, and it is for you FREE OF COST, all we need is the support that you can show by sharing it among your friends.
Just as we told you before, it is pretty easy to get a MEPCO connection. You have two pathways, you can either apply online or you can go and submit an application form in the MEPCO office. We would personally recommend that you use the online application process as it is far easier and saves you from the hassle of going to the MEPCO office. It saves your time and money, so GO FOR IT. Although it is a relatively new process, so a lot of people are still not used to it. So we will be explaining the physical method of applying for the connection.
Now you can check your MEPCO Bill Online
So, without any further delay, let's get to the main topic.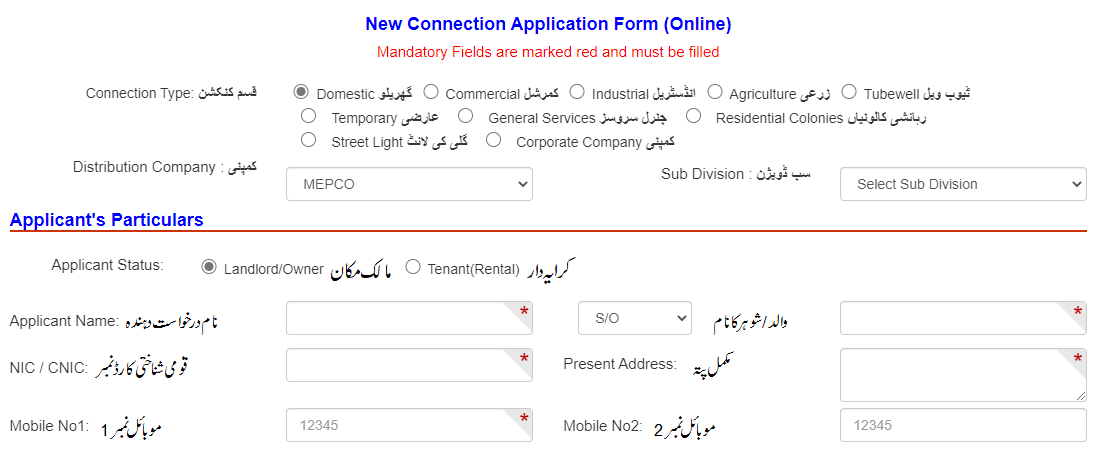 How to apply for a new connection?
Applying for a new connection is fairly easy. All you have to do is download a form. The link to that form is here. You just have to fill the form, attach the required documents and then submit the application to the MEPCO office. Within a set time frame, you will get your new MEPCO connection. Or there is another easier process as well. You just have to visit this website, and select "Apply new connection". Now, enter the information the online form is asking you for. Make sure that you select MEPCO as the distribution company.
Detailed process:
Fill the application form
You have to upload the copies of following documents
A document that shows your proof of ownership (if you own the property whose connection you are applying for)
Undertaking by the applicant that there is no prior connection for the premises that he or she is applying for
If there is more than one owner of the property that you are applying for, attach a permission letter or power of attorney of these partners in the property
If you are a tenant, then attach a NOC from your landlord
Attested copies of your CNIC
Attested copies of CNIC of two witnesses, and you do not need these if you are applying for a single phases connection
A signed copy of the tariff of the applicant
Submit the application form and print the copy
Attach with the printed copy, copies of all the required documents mentioned above
Apply with the attached documents in the MEPCO office
After this process, you will receive a demand notice, which you will have to pay in the designated bank
Submit the paid copy to the concerned MEPCO office
After the verification process, you will get your MEPCO meter connection. You can also check your application status by visiting your concerned MEPCO office or you can also call the MEPCO helpline. This is how simple the process is. All you have to do is have complete documentation. The rest is just you waiting for the connection, as it takes some time. We have discussed these time frames in this blog below. Keep reading to find out more.
Different categories of MEPCO connection
There are different categories of MEPCO connections depending on the load and electricity you are going to ask for. Generally, the MEPCO connections are divided into three categories and each category takes a different time to get the meter connection. This is because, for each category, there is a different verification process. MEPCO is responsible for the distribution of electricity in 13 districts, hence there is a lot of workload on MEPCO. So it takes some time to very each step of the process. Hence, there is a set time frame for each consumer, in which he or she can get a new connection. It is all part of the process; you just have to be patient as a consumer.
Following are the different categories that MEPCO offers to its consumers:
Category 1 This is up to 15kW
Category 2 This from 16kW to 70kW (400 volts)
Category 3 Category three ranges from 71 to 500Kw (400 volts)
For electricity of more than 400 volts, the consumer has to purchase its transformer.
The Time Frame for new connections
Just like we have told you guys before, each connection has a set time frame in which MEPCO runs a verification process and other checks. Each step of the process takes some time and the collective time makes up a time frame that is standard for the category that you are getting. As a customer of MEPCO, you have to be patient until this process is complete, then after the set standard time frame, you can get your meter connection. This time starts from the day you apply for the new MEPCO connection. Following is the table that has a summary of the time frames for each category.
| | | |
| --- | --- | --- |
| Category | Description | Time limit |
| 1 | Load up to 15 kiloWatts (Voltage level 400V) | 30 |
| 2 | Load from 16 to 70 kiloWatts (Voltage level 400V) | 44 |
| 3 | Load from 70 to 500 kiloWatts (Voltage level 400V) | 73 |
| 4 | 500 to 5000 kiloWatts (Voltage level 11 or 33-kilo Volts) | 106 |
| 5 | For all loads at voltage level 66 kilo Volts | 496 |
Time for category one
The time limit for Category 1 is 30 days. But your next question might be, how is it 30 days? We are here to answer that question. Following is the division of the days according to each step that MEPCO takes for setting up a new connection for Category 1
After the submission of the application, the MEPCO office will issue a receipt to the application and will also assign a seniority number to it based on the date of submission of the application for a new connection – 1 day
The concerned MEPCO office will send a representative to inspect where the applicant wants a new connection. This is done to make sure that whether it is possible to get a new connection or not – 3 days
If the connection is possible, then MEPCO will estimate the cost for the new connection – 2 days
MEPCO will generate a demand notice which can either be hand-picked by the applicant or it can be mailed to him or her – 2 days
Applicant deposits the demand notice in the designated bank and then submits the receipt to the concerned MEPCO office – 2 days
Applicant submits the wiring test report and the office verifies it – 3 days
MEPCO office will prepare a priority list based on your date of submission – 1 day
MEPCO office will issue service connection order – 3 days
The concerned MEPCO office will then make sure that all the things necessary for the connection have been ordered from the store – 3 days
The concerned store provides everything to MEPCO office – 5 days
After receiving the items, the new connection is connected by the SDO office – 5 days
Time for category two
It takes about 44 days for setting up a category 2 connection. The following tables show the details of it.
| | | |
| --- | --- | --- |
| Sr. No. | Description | Days |
| 1 | After submission, the MEPCO office issues a receipt and a seniority number | 1 |
| 2 | The office inspects the place where a new connection is wanted, to make sure it is possible to set up a new connection or not | 4 |
| 3 | MEPCO estimates the cost for new connection | 2 |
| 4 | The office accepts the application if the connection is possible | 4 |
| 5 | Demand notice is generated and paid demand notice copy is received from the applicant | 4 |
| 6 | Applicant submits wiring test report and office verifies it | 4 |
| 7 | Service connection order is issued by the office | 3 |
| 8 | Required items for setting up a new connection in order from a store | 7 |
| 9 | After collecting the items required, the office sets up the connection. | 15 |
Time for category three
It takes about 73 days to set up a Category 3 connection. All the details are the same as steps number 1 to 6 in the above table. The only difference is that the service connection order takes 2 days, getting the items required to set up the connection takes 15 days, and then setting up the connection itself takes about 37 days.
Frequently Asked Questions – FAQs
You might have a lot of questions for us. We know these questions as we get them from time to time. So now, we are answering them even before you ask them.
Is the process online?
Yes, and no. The process is not completely online. You can fill an online application form but you still have to submit it physically in your concerned MEPCO office.
How many days does it take to complete the application process?
It depends on the category of connection. For categories 1, 2, and 3, it takes about 30, 44, 73 days respectively
What are the categories for connections?
Based on the load and the level of volts, there are different categories that you can get. For basic consumers, it is category 1 mostly.
Who can attest to the documents?
For the documents that you have to submit with the application form, you can attest most from a government officer of 16 or above BS scale. For the undertaking or proof of ownership, you may have to get it signed by the oath commissioner.